Discover the Widest-Collection of Upmarket Footwear with Our Kurt Geiger eGift Cards
For buyers interested in experiencing the diversity of sandals, women's footwear, trainers, and shows for men, Kurt Geiger is the best online retail store in plain sight. Products available at this web store make the perfect gifting options for the footwear fanatics, who are always on the search for newer designs, upmarket trends, and obviously, value for money.
Therefore, if you are looking to gift something to a shoe lover but have no prior experience regarding size and color based selections, it is advisable to send across a Kurt Geiger gift card. If and when you purchase a Kurt Geiger gift card and mail the voucher to the near and dear ones, they readily get open access to all the remarkable brands listed across the store.
Most importantly, the eGift cards are applicable across the entire store and can be paired as Kurt Geiger Coupon Codes or Kurt Geiger vouchers, depending on the validity and redemption options.
These include Miss KG, UGG, Aldo, and whatnot. Moreover, Kurt Geiger gift cards in UAE are valid and redeemable across all the existing store-wide collections. Besides that, the recipients can easily make purchases by just using the eGift voucher, sent to them via emails or even general texts.
You might not be a gift-person, but the Kurt Geiger eGift cards listed on the Al GiftCards platform allows you to minimize the hassles of self-purchases. You can just select a digital card of a specific value and send it across as the perfect token of appreciation.
---
How to Get Kurt Geiger Gift Card?
Choose the Kurt Geiger Gift Card that you want to Buy from al giftcards.

Verify the terms and conditions first.

Now Choose the amount of Kurt Geiger Gift Voucher then Select one of the Delivery Option.

You will be redirected to the Paypal.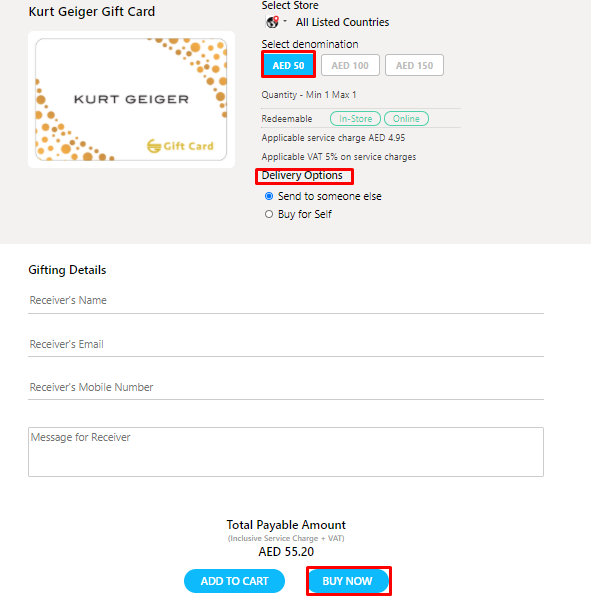 ---
How to Redeem Kurt Geiger Gift Card
First Find your Kurt Geiger e Gift Card Number and pin code from the voucher.

Then Visit Official Kurt Geiger Website

Login/Sign up at Kurt Geiger.

Click on Kurt Geiger Credit Tab, enter the 25-digit gift card number and 4-digit pin

Click on Apply to Redeem your gift card.

---
Popular e-Gift Card Searches:
Noon Gift Card, Splash Gift Card, Max Fashion Gift Card, iTunes Gift Card, Playstation Gift Card.