Rediscover Iconic Footwear Styles with our ECCO eGift Cards!!!
Gifting footwear is something that opens a world of possibilities for the recipients. Although several stores deal in boots, sandals, crocs, formals, and more, there aren't many that can match up to the variety on display at the ECCO store. Most importantly, if you aren't willing to purchase and gift wrap the select footwear, you can always opt for the ECCO gift cards and set values, according to the budget.
ECCO is one holistic online retail store that deals in shoes for men, women, and kids while sheltering some of the best brands across the globe. Not just the extensive gamut of branded selections, ECCO is also a desirable shopping outlet for individuals interested in quick deliveries.
Most importantly, the eGift cards are applicable across the entire store and can be paired as ECCO Coupon Codes or ECCO vouchers, depending on the validity and redemption options.
People who understand a fair bit about footwear and the diverse range of options associated with the same, including golf shoes, party shoes, stilettoes, and more, would love to make purchases from ECCO. Therefore, if you know someone who would be interested in a good pair of shoes, ECCO Gift cards are the perfect options to consider. Most importantly, you can select the value of the ECCO Gift cards in UAE, depending on your willingness to spend.
ECCO isn't like any other online shoe store and focuses on quality and brand coverage, more than anything else. Therefore, instead of making a purchase, you must immediately procure an ECCO gift card from Al GiftCards and send it across to the concerned recipient.
---
How to Get ECCO Gift Card?
Choose the ECCO Gift Card that you want to Buy from al giftcards.

Verify the terms and conditions first.

Now Choose the amount of ECCO Gift Voucher then Select one of the Delivery Option.

You will be redirected to the Paypal.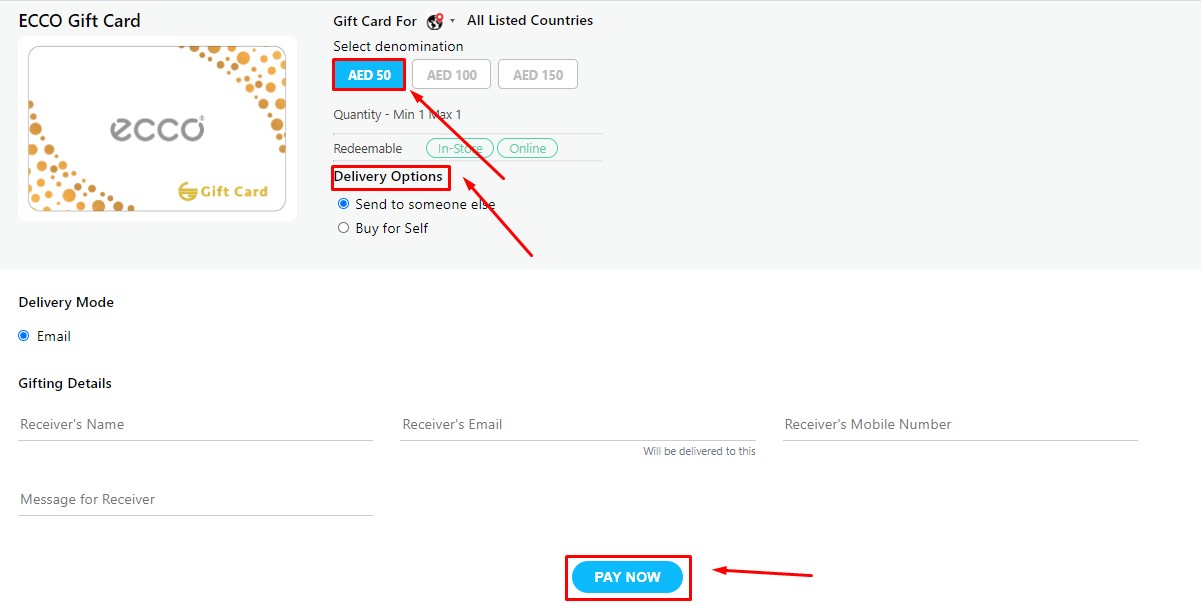 ---
How to Redeem ECCOt Gift Card
First Find your ECCO e Gift Card Number and pin code from the voucher.

Then Visit Official ECCO Website

Login/Sign up at ECCO.

Click on ECCO Credit Tab, enter the 25-digit gift card number.

Click on Apply to Redeem your gift card.

---
Popular e-Gift Card Searches:
Noon Gift Card, Splash Gift Card, Max Fashion Gift Card, iTunes Gift Card, Playstation Gift Card.
1. How to get an ECCO gift card?
You can visit our website and choose the voucher amount that's right for you to buy a gift card. You should check the gift card details before you purchase, and choose the number of cards you wish to buy. You can also split your gift card amount over multiple cards. Add the ECCO gift card to your basket at checkout, make the payment, and it's done. You can order a gift card online and get the card delivered to your doorstep or your loved ones.
2. What is the validity of the ECCO gift card?
Your ECCO shoes gift card is valid for a full period of one year or 12 months from the date of the card issue. You can use the card at any time to purchase your favorite pair of shoes, accessories, and shoe care products at their online or offline stores within the given validity period.
3. How to activate the ECCO gift card?
Sometimes you can buy gift cards at self-checkout. These cards are automatically activated once your payment is processed, and your transaction is complete. If your gift card is not activated, visit the activation link listed on the back of your card or check the sticker on the front of your gift card. Usually, you can activate your gift card online or make a phone call to the third party merchant if you are unable to use your gift card.
4. How to use an ECCO gift card?
You can use your ECCO gift card UAE to make payments online, via the ECCO app, or in any of their physical stores. Choose the product you like & proceed to checkout. Apply your 25- digit gift card number and 4- digit pin at the end of the cart or basket page to check how much money you can use from your gift card. Click on the checkout page to complete your shopping.
5. How to check the ECCO gift card balance?
To check your ECCO gift card balance, you will need the card number and the PIN or security code on the back of the card. Most retail stores and restaurants will allow you to make a balance inquiry online, by calling the toll-free number given on the gift card, or by visiting them in person.
6. Can ECCO gift cards be redeemed for cash?
No. An ECCO gift card or gift voucher cannot be exchanged for cash either in full or in part. It can only be used to buy products equal to the ECCO gift card Value at any of their brand stores across the UAE.
7. What if the purchase value is more than the ECCO gift card balance?
If the value of your purchases is more than the cardholder, your gift card is redeemable for part value. In case the cart value is more than the value of your gift card, the gift cardholder will have to pay the balance exceeding the gift card value or differential value either in cash, credit card, or debit card.