Explore Trendy Baggage Essentials with Our Carpisa Gift Vouchers
Baggage fashion has evolved over the years, with customers willing to experiment with their wallets, purses, clutches, and more. However, for someone interested in purchasing the best products in the market, Carpisa is one web store to consider.
Without a doubt, Carpisa features some of the trendiest handbags, luggage carriers, and other accessories. If you know someone interested in adding newer elements to the wardrobe, you can contemplate gifting a valuable Carpisa eGift card. Using redeemable Carpisa gift cards, the recipient can purchase what best matches his preference.
When it comes to selecting and sending across a Carpisa gift card in UAE, you must ascertain the requirements of the recipient and choose the value, accordingly. Most importantly, every Carpisa gift card comes with a year-long validity, starting from the date of purchase.
The buyer will always get access to newer designs and attributes. Carpisa thrives on unmatched aesthetic creativity and offers value for every penny that is being spent. Therefore, if you gift digital cards to people you know, they will surely get access to the best possible deals, listed on the website.
Most importantly, the eGift cards are applicable across the entire store and can be paired as Carpisa Coupon Codes or Carpisa vouchers, depending on the validity and redemption options.
Al GiftCards has the latest Carpisa eGift vouchers that allow you to make easy and dependable purchases. We offer a transparent payment scheme and the vouchers are immediately delivered to the online addresses provided by you. If you have made your mind about gifting something worth-remembering to the loved ones, immediately consider an eGift card from Carpisa.
---
How to Get Carpisa Gift Card?
Choose the Carpisa Gift Card that you want to Buy from al giftcards.

Verify the terms and conditions first.

Now Choose the amount of Carpisa Gift Voucher then Select one of the Delivery Option.

You will be redirected to Paypal.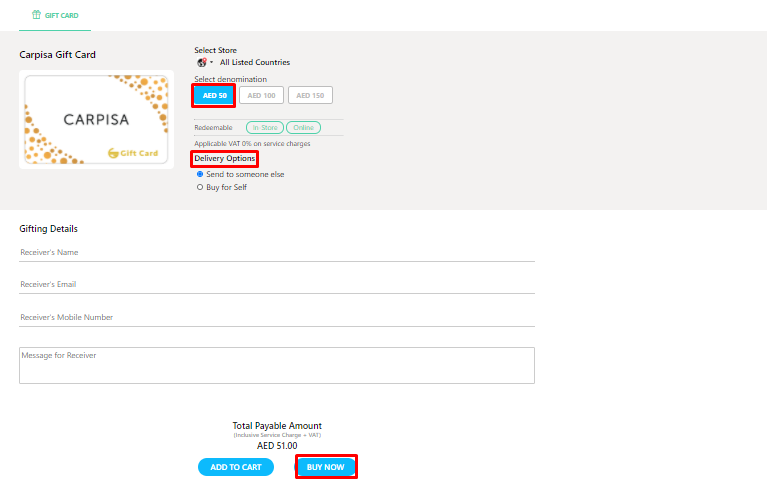 ---
How to Redeem Carpisa Gift Card
First Find your Carpisa e Gift Card Number and pin code from the voucher.

Then Visit Official Carpisa Website

Login/Sign up at Carpisa.

Click on Carpisa Credit Tab, enter the 25-digit gift card number.

Click on Apply to Redeem your gift card.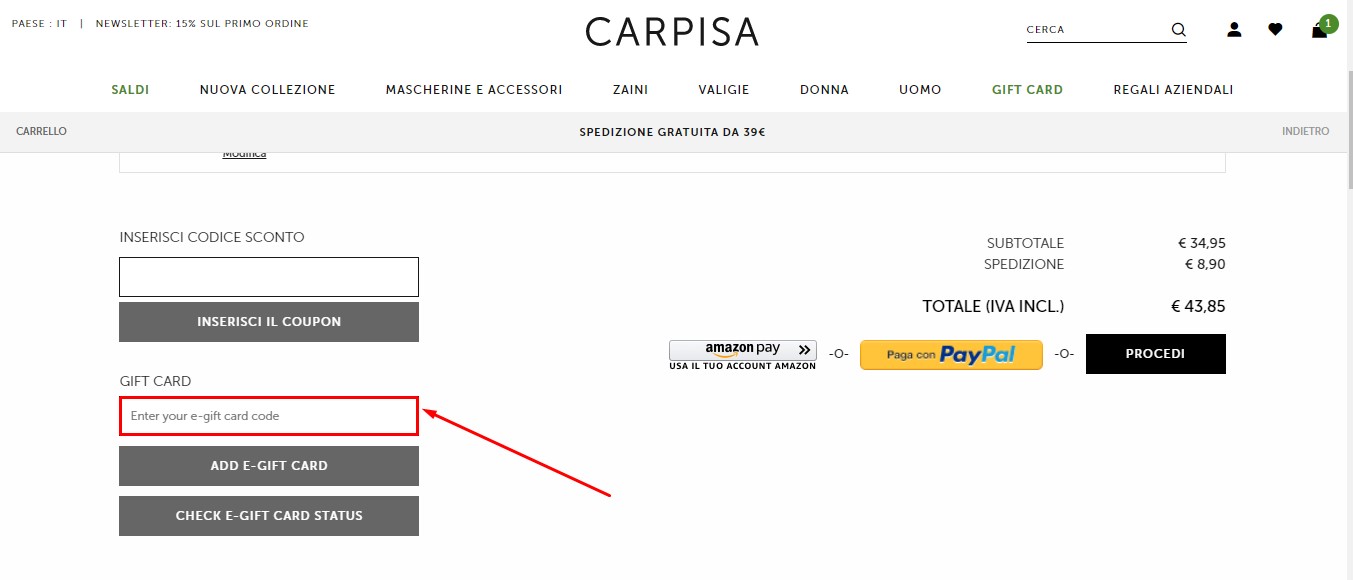 ---
Popular e-Gift Card Searches:
When will I receive the Gift Card?

How to get hold of a Carpisa eGift Card in the UAE?

What is the validity of my Carpisa Gift Voucher? 

I have an unused balance in my Carpisa Gift Card, what can I do?

How to avail the Carpisa Gift Card amount?

Can Carpisa Gift Cards be exchanged for money?

My total bill amount is more than the Gift Card amount. What can I do?

My Carpisa Gift Card is lost. What are the steps I need to follow?

I need to return an item I bought with a Carpisa Gift Card. What should I do?
For additional questions, you can leave us a message here, and we will get back to you shortly!
Happy shopping!